Last week, Theresa Meuers was untimely killed in a horrendous motor vehicle accident that occurred on George Price Highway in Belize. You may read Theresa's obituary published in the Star Tribune.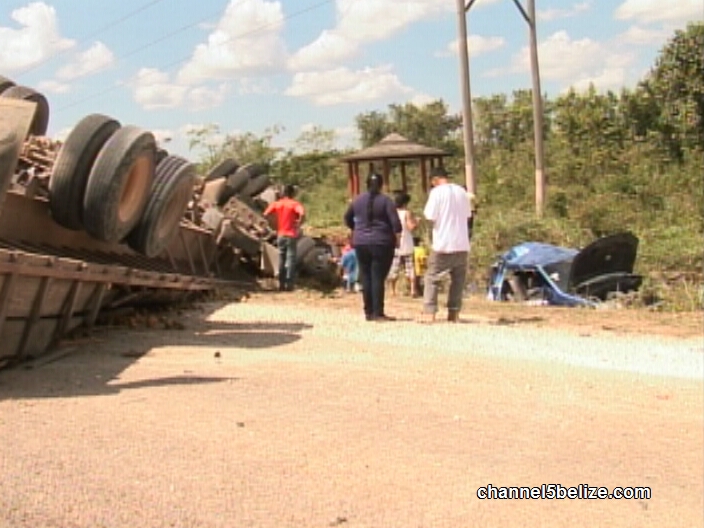 That day, in the late morning hours, Theresa and Sam Schulte, her companion, were in the back seat of an SUV driven by Tour Guide, Leon Rodriguez (some have reported that the driver's name is Leon Garcia of Big John's Tours.) Before noon, Rodriguez overtook an 18-wheeler that was transporting oranges, and several seconds later returned in the same right lane. At this point, there are different witness accounts, mainly from Rodriguez, and the driver of the truck, Miguel Angel Arriaga. Rodriguez told the authorities that he slowed down to make a right turn, while Arriaga said that Rodriguez came to a complete stop in the middle of the road, with no turn signal indicating he was going to make a right. Arriaga told Police that he was unable to stop the truck in time and he rammed the 18-wheeler into the rear of the SUV at great speed.
Theresa and Sam were both stuck in the completely destroyed SUV for almost one full hour before an ambulance arrived at the scene of the accident. They were both taken to the hospital, but Theresa did not survive her injuries and was pronounced dead at the hospital later that day.
This incident happened while Theresa and Sam were on a Caribbean cruise. The cruise ship had docked in Belize for the day and the two friends had plans to spend the day at Jaguar Paw which is a known shore excursion cruise lines promote as one of their activities in Belize. This incident is unfortunately not uncommon. Leesfield Scolaro sees cases on a yearly basis where cruise passengers book a shore excursion activity during a cruise, and return catastrophically injured, or worse mourn the loss of a friend or a family member.
This happened to a Rochester family who purchased a shore excursion activity while their cruise ship was docked for the day. The excursion included the ride in a bus, sadly an accident ensued when the bus driver claimed the brakes of the bus failed as he was driving down a hill and was approaching a sharp turn. The driver turned so hard that the bus rolled on to its side. All the occupants in the bus became injured, but none were more injured than the son of the New York family as he flew out of the bus. He tragically died shortly after. Leesfield Scolaro represented the family and was able to secure a $3 million settlement with the defendants. Theresa Meuers's fate is eerily similar to our firm's former clients.
Shore excursion litigation is very complex and has a lot of moving parts. These claims require an experienced attorney with knowledge in Florida law, Maritime law, and Federal law. Leesfield Scolaro attorney, Carol Finklehoffe, who has litigated and tried countless cruise line and maritime cases, and who was involved in the $3 million settlement mentioned above, was also involved in a recent case which yielded a combined $7.25 million settlement for injuries sustained by a mother and daughter during another cruise ship shore excursion incident.
Carol Finklehoffe is the President of the Maritime Law Association (MLA). She will be in New Orleans next month to discuss passenger claims against cruise lines, and she will be in New York in April to speak on claims of medical malpractice against cruise lines.
If you or a loved one were injured as a result of an incident occurring during a cruise ship shore excursion, contact our firm immediately at 800-836-6400, or email us at info@leesfield.com.