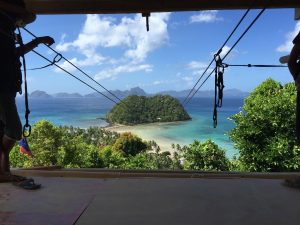 Awful cruise line news broke last week about a newlywed couple who collided with each other during a zip line tour in Roatan, Honduras, resulting in death and injuries. The individuals involved in the incident, an Israeli couple, were celebrating their honeymoon with a cruise vacation on Royal Caribbean's vessel Allure of the Seas. Sadly, it is a scene repeated all too often.
Cruise lines, which form a $40 billion dollar a year industry, derive substantial profits from shore excursions which they market and sell to passengers as part of the cruise vacation experience. Passengers should be very cautious before deciding to go on a cruise sanctioned shore excursion, as many of the basic safety standards and regulations mandated in the United States go absent or unenforced in foreign cruise ports of call.
In the last few years there have been many injuries and deaths from zip lining incidents during a cruise line shore excursion. In fact, several such incidents have occurred before in Roatan, Honduras. In 2015 a passenger on Royal Caribbean's Navigator of the Seas was horrifically injured while zip lining in Roatan on a zip line that was negligently operated with too much slack in the line. In 2009 a passenger on a Norwegian Cruise Line vessel plummeted to her death when a zip line cable in Gumbalimba Park, Honduras, snapped in mid air. There have been many other instances of death and injury from zip lining in other foreign ports of call, normally from faulty equipment and excursion operator error.
These unfortunate occurrences are not limited to zip lines, other unsafe shore excursions have been known to result in injuries to cruise passengers. Incidents of death and injury from drowning, diving in unmarked shallow water, boat wrecks, unsafe automobiles, ATV rollovers, horseback riding, and even snake bites have all been known to occur during cruise line shore excursions
Just last month the attorneys at Leesfield Scolaro filed a lawsuit on behalf of ten individuals who were badly injured during a "Unimog" shore excursion in Freeport, Bahamas, stemming from a rollover of a military troop transport vehicle transporting passengers without seat belts or safety features. Over the last twenty years we have developed a reputation as industry leaders in cruise line shore excursion litigation. We have handled complex shore excursion litigation involving fatal parasailing incidents, a fatal bus crash during a shore excursion, pedestrian auto collisions at foreign ports, and many unique matters that have occurred abroad during cruise vacations. We take great pride in consistently obtaining outstanding results for our clients who have suffered injuries while on their cruise vacation. The challenges of a shore excursion case require an attorney of the highest quality of skill and expertise to avoid jurisdictional and litigation pitfalls.
It can be very difficult for a passenger to sue a shore excursion operator in the United States for these types of incidents due to jurisdictional limitations, and the cruise line is often the only entity that an injured individual can seek to hold liable. Passengers should also take heed of the fine print and read every document before paying the cruise line for a shore excursion or agreeing to participate. Often the ticket for the shore excursion will contain language and limitations included by the cruise line to limit its liability and distance itself from the shore excursion operator when disaster strikes. Last month a case from the United States Court of Appeals for the Eleventh Circuit absolved Celebrity Cruises of liability and granted summary judgment against a cruise passenger injured on a shore excursion. The Court gave great weight to the fact that Celebrity Cruises had described the excursion operator as an "independent contractor" in ticket terms and conditions. Ironically, the case involved yet another zip line excursion injury.