In a special letter to the editor published on September 4, 2015, in the Miami Herald, Ira H. Leesfield revisits the importance of the decision reached by the U.S. Court of Appeals for the Eleventh Circuit, not only for the case of Teresita Sorrels, but for present and future injured cruise passengers.
"In reversing the trial court's order, the Eleventh Circuit gave Teresita Sorrels her day in court and allows passengers injured by the alleged negligence of the cruise line the same rights as if they were otherwise the victims of land-based negligent businesses." writes the senior managing partner of Leesfield Scolaro.
Click here to read the article written by Ira H. Leesfield for the Miami Herald.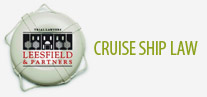 For almost 40 years, Leesfield Scolaro has been at the forefront of fighting for plaintiffs' rights and legal protections in all areas of personal injury, including products liability, medical malpractice, negligent security, and general negligence. In the last two decades, the cruise line industry has reached new heights in terms of number of cruise passengers increasing every year. Not unexpectedly, litigation over cruise passengers sustaining injuries on ships or during shore excursions has similarly increased. Fast-forwarding to today, Leesfield Scolaro has obtained many legal victories litigating against Cruise Lines, in spite of the scale of justice tilting dangerously against injured cruise passengers.
For almost 25 years, cruise passengers did not have the right to sue a cruise line for the medical negligence of the shipboard doctor. The decision reached in Franza v. Royal Caribbean Cruises published this year changed this longstanding piece of unfairness. Similarly, the decision reached last month in Sorrels v. NCL affords more rights to injured cruise passengers. A decision of victory and fairness laced with common sense.