Lila Gale and her family were set to cruise in the Caribbean aboard the MS Zuiderdam when she sustained a stroke within 100 miles of Florida. The symptoms she displayed left no room for error and the Holland America Line (HAL) doctor diagnosed her with having sustained a stroke within minutes.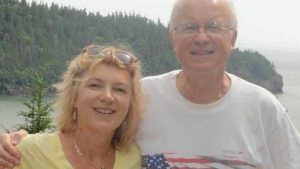 With the severity of the condition, coupled with the proximity of the ship to Broward Health Medical Center – a comprehensive stroke center in Fort Lauderdale – a medical evacuation had to be ordered and implemented without delay. Instead, Lila received the most odious and deplorable treatment from HAL which ultimately doomed her health, causing irreversible brain damage.
Upon arrival to the ship's infirmary, Lila was noted to be confused, drowsy and with slurred speech. A provisional diagnosis of "severe stroke" was made. At this very moment, a medical air-evacuation was both medically necessary and operationally feasible. However, against all common emergent medicine sense and standards, HAL's doctor, Dr. Socrates Lopez did not order a medevac. Instead he intubated Lila and observed her health deteriorate for the next two hours without attempting to further treat his patient.
Two and a half hours later, Lila was wheeled out of the infirmary and thrown on a tug boat with no medical capability, in the middle of the night, in the middle of the ocean.
This was Holland America Line's plan all along: Get rid of the stroke victim at no cost, and as soon as possible.
For the next 40-plus minutes Lila and her family could not feel more abandoned and helpless. Holland America clearly signaled Lila was no longer its responsibility. The cruise line which asks paying passengers to "savor the journey" displayed vehement disregard to Lila's life.
Upon arrival on shore, Lila was taken to Rand Memorial Hospital in Freeport, Bahamas. As soon as she admitted, the hopes of John and Pablo to finally provide adequate care to Lila were crushed. They discovered that HAL had sent Lila to a non-comprehensive stroke center hospital. To add insult to injury, the hospital did not have a single functioning CT scan, did not have a neurosurgery department, and did not have neurological specialists.
John and Pablo quickly requested that Lila be flown to Florida immediately. The attending physician agreed and made the appropriate decision to transfer Mrs. Gale to Broward Health Medical Center. Unfortunately, the local airport was closed, set to re-open the next morning. Another blow to Lila's prognosis.
The family was forced to wait until the next morning to be flown via an air ambulance from the Bahamas to Fort Lauderdale, Florida, while the bleeding and pressure in Lila's brain continued to worsen, killing more and more brain tissue with each passing hour.
HAL's utter neglect and disregard for Lila's health resulted in a 15-hour delay in obtaining the necessary medical care that she urgently needed. Holland America knew as soon as Lila's medical event occurred that she needed immediate care, that stroke victims require emergent care and that each passing minute translates into permanent worsening of her cognitive and physical health. And yet, HAL decided to wait for two hours, and then, lifted the only finger that made matters worse: The tug boat.
This is not the first lawsuit filed by Leesfield Scolaro against a cruise line for medical malpractice or for failure to treat a stroke victim. But this lawsuit, filed as a result of HAL's blatant disregard, will seek exemplary redress. While Lila fights every day in therapy to improve her life, Lila's family will make sure, through litigation, that stroke victims on cruise ships are automatically medivaced to a comprehensive stroke center – when operationally feasible – as a matter of public health and public policy.