An investigation led by the authorities in the Bahamas and assisted by Federal Agents is underway after yet another cruise passenger fell off the ship and died as a result of his injuries.
At the time the incident occurred, Allure of the Seas, cruise ship operated by Royal Caribbean, was approximately one mile off the coast of Cozumel, Mexico. It has been reported by other passengers that the young man was a British citizen, and allegedly fell from the balcony of his stateroom located on Deck 11.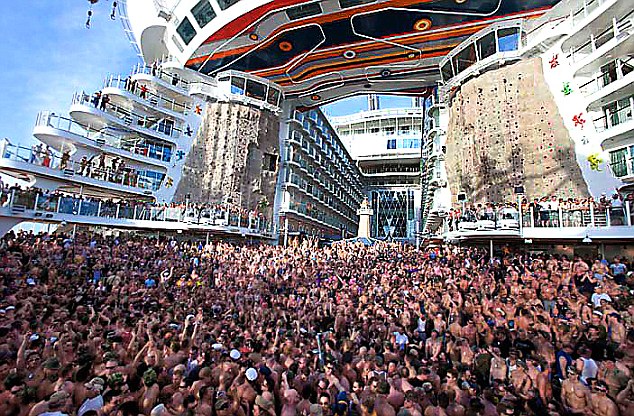 As soon as the incident became known the crewmembers, multiple public announcements were made over the speakers throughout the entire ship and Royal Caribbean employees began searching for the missing passenger. Once it became clear to crewmembers that the passenger was indeed missing and had probably fallen off the ship, the captain immediately alerted the local authorities of the incident.
Royal Caribbean has since issued a statement saying "a review of the ship's closed-circuit camera footage observed the British guest going over the balcony railing in his stateroom on deck 11. The location of the ship at the time the guest went overboard was marked on the ship's Global Positioning System (GPS) and the US and Mexican Coast Guard were alerted. Our Care Team is providing support to the guest's family and our thoughts and prayers are with them."
All signs in the early stages of the investigation point to a suicide, yet Superintendent Paul Rolle, Head of the Central Detective Unit, has shared with members of the media that the investigation is not complete. He said in an interview with The Tribune: "We do not have much information we can share with the public at this point. All we know is a British man is dead and it may or may not have been suicide. We are still conducting our on scene investigations and interviewing eyewitness. We are being assisted by other law enforcement agencies and expect to wrap up our investigations shortly. At that time, I will provide an update,"
The deceased, whose name the authorities have not released, was on board a ship along with more than 4,500 passengers as it sailed from Florida to Cancun on a gay and lesbian-themed seven-day cruise.

The Cruise Ship Accident Lawyers of Leesfield Scolaro have been litigating cruise ship cases for years, representing victims who were injured while on a cruise ship or during a shore excursion. Last January, our firm was joined by two of the top cruise defense attorneys, Robert Peltz and Carol Finklehoffe.
If you were injured while on a cruise ship due to the negligence of another party, visit our website for more information and contact one of our cruise ship incident attorneys. You must act diligently because the notice requirements and the statute of limitation applicable to cruise ship personal injury cases are very short.