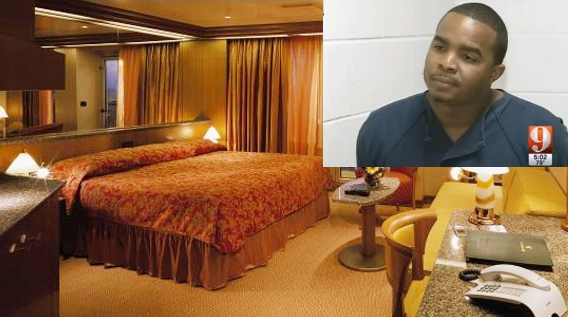 Cruise Ship Lawyers Blog reported last month that Casey Dickerson was arrested on rape charges. Dickerson was accused of having organized, initiated, and participated in the gang rape of a minor child while on a Carnival cruise, sailing on the Carnival Sensation.
The terrifying detail of the attack were disclosed here after Cruise Ship Lawyers Blog obtained a copy of the criminal complaint filed against the 31-year-old married man.
This week, a federal grand jury heard evidence and testimony surrounding the events that took place on August 19, 2012, in the ship's cabin U-212. The grand jury rendered its decision and indicted Dickerson on multiple sex charges. The defendant has been held in a Central Florida jail since his arrest on August 20, despite Dickerson claiming he did not have sex with the young child and that he was drunk at the time with limited recollection of the events.
It is unknown whether the State Attorney's office will seek criminal prosecution of the four other male teenagers who were present and participated in the gang rape as well.
While quietly monitoring the criminal case against Dickerson, Carnival Cruises has yet to address and explain why this incident took place. From the criminal complaint, it is now established that Dickerson purchased alcohol for several teenagers on a at least two separate occasions, including on the night the rape occurred.
Carnival advertises that it has a strict alcohol policy in effect on its ships and that employees are specifically trained to look for and be aware of minors drinking alcohol. At trial, we will know how and how much alcohol Dickerson purchased that night and why he was allowed to roam the ship with alcohol and make his way to his cabin. Among Carnival's policies, if one passenger purchases alcohol in large quantity for a large group of people, Carnival employees must request the photo ID of every single person who will be drinking. That is to prevent underage passengers to ask an adult to buy alcohol for them. If this policy had been followed on the Carnival Sensation, the teenagers would not have been able to get their hands on any alcohol that night, and would not have "befriended" Dickerson on the ship.
Moreover, Carnival has yet to justify their decision of allowing Dickerson and his wife to have access to two cabins throughout the entire cruise. As we reported here, Dickerson's wife complained to Carnival's staff that the cabin assigned to them was extremely noisy. As a result, they were given the key to another cabin. Carnival however failed to demand Dickerson to return the key to the first cabin. The spare cabin was used as a party room and created a dangerously unsafe and unmonitored environment. As a policy, Carnival employees must secure and lock all vacant and unused rooms. That policy is not only true for private cabins, but also for areas on the ship that are closed after hours.
We will learn a lot more about what exactly happened at the criminal trial of Dickerson. Date of trial has not yet been set by the court.