As we previously reported here, Luiz Scavone is facing charges for committing a lewd and lascivious act on a 15 year-old girl while on a Royal Carribean cruise ship "Allure of the Seas". Yesterday, Scavone's defense counsel asked Broward Circuit Judge Matthew Destry to set a low bail or no bail at all. The prosecutors moved for a high bail arguing that Mr. Scavone, a Brazilian citizen, poses a substantial flight risk. Judge Destry will hear arguments from both sides before ruling on the bond issue, during a court hearing set for Friday morning. At the hearing, Judge Destry's decision is surely going to take into account the fact that exists a loophole in Brazil's constitution which was recently amended and now provides that the extradition of its natives accused of crimes in other countries is prohibited.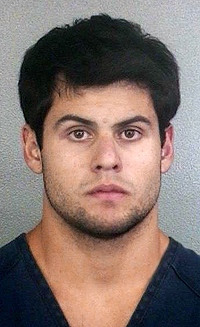 Luiz Scavone, along with another 15-year-old male, also a Brazilian citizen, allegedly lured a teenage girl into a private cabin and sexually assaulting and raping her. The 20-year-old faces charges for a second-degree felony, punishable by up to 15 years in prison.
The lawyer and relative of the two Brazilians who were arrested at Port Everglades and now accused of sexually assaulting and raping the 15 year-old teenage girl stated that they are innocent and that the intercourse was consensual. The newspaper Folha de S. Paulo reports that the 15 year-old resident of Ponta Grossa (PR), said he met the girl in the nightclub of the ship. His attorney is claiming that the sex was consensual: "He's a child. They went to the bedroom and had sex. At no time there was persuasion. Then, pressed by her family, she said she was raped. Her mother is a lawyer".
The uncle added that the ship has cameras and the family intends to use the images to show that there was consent. To the police, the girl said she thought she would find friends, but in the cabin, the Brazilian was forced to have sex. She testified and underwent clinical examination. According to the lawyer, the Sao Paulo resident, Neto Luiz Antonio Scavone, also was in the cabin. He had invited another girl, who then walked away. The attorney for Luiz Scavone, said today that his client "will plead not guilty when formally charged".

For the past 35 years, Cruise Ship Lawyers at Leesfield Scolaro have continuously fought for victims who were sexually assaulted on cruise ships. "Leesfield Scolaro' maritime law practice is one of the nation's leading advocates for victims assaulted or raped while at sea. We continue to take steps to advance our work on behalf of victims who need accomplished attorneys fighting for their rights," said Ira Leesfield, founder and managing partner of Leesfield Scolaro.