Below is a timeline of events amid the cruise ship disaster that sunk off the coast of Italy, Isola del Giglio: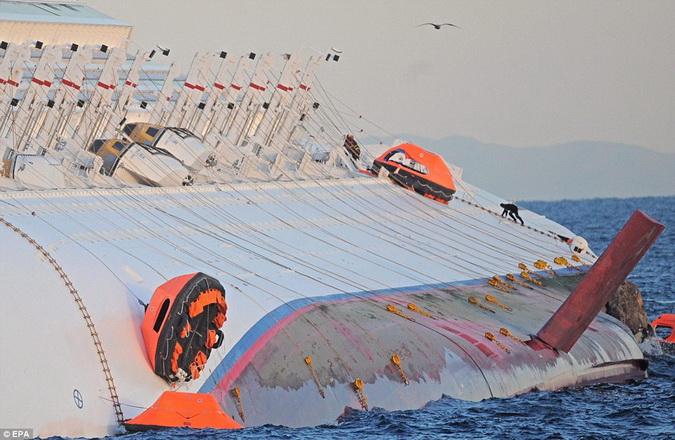 Friday January 13, 2012
7:00 p.m.: The ship embarks on a 7-day cruise from Civitavecchia, near Rome, with 4,229 cruise passengers and crew members on board from 60 different countries.
9:15 p.m.: Ship takes a five miles detour to pass closer to the picturesque Tuscan Island of Giglio (Isla del Giglio)
9:30 p.m.: Ship strikes rocks 300 meters off the Island of Giglio. Five minutes later, the electricity goes off. many passengers begin to panic.
9:45 p.m.: The first alarm is sounded. Two long whistles and on short, informing the crew of a problem.
9:50 p.m.: The ship begins to list. In the restaurants, dinnerware falls off the tables. Some passengers rush to their cabins to put their life vests on.
10:00 p.m.: Captain Francesco Schettino tries to maneuver the vessel towards the shore.
10:10 p.m.: 'Abandon Ship' signal is given: Seven short whistles and one long. Lifeboats begin their deployment.
10:20 p.m.: Coastguards launch rescue boats and helicopters. Most of Giglio's 800 residents turn out to help. Passengers jump into the chilly waters instead of boarding lifeboats. Many passengers are injured in the process, several seriously.
11:15 p.m.: The first lifeboat reaches Giglio. In all, around 4,000 people make it safely aboard a lifeboat.
11:40 p.m.: Captain Fransesco Schettino is found ashore.
Saturday January 14, 2012
Three bodies are found by rescuers, two French passengers and a Peruvian crewmember.
2:30 a.m.: Some 300 people are still aboard the sinking ship.
6:00 a.m.: Local fire chief says last survivor has been rescued from the ship, Rescuers continue their searches on the ship and underwater throughout the next two days.
3:00 p.m.: Captain Francesco Schettino detained along with his first mate on allegations of manslaughter and abandoning his ship.
Monday January 16, 2012
A sixth body is found at sea. There are 16 people still unaccounted for, including two Americans.

The two Americans that remain missing are Gerald Heil and Barbara Heil, of White Bear Lake, Minnesota. The couple's daughter confirmed they are among 16 people unaccounted for at this time.