We reported on Monday that a cruise passenger on the Carnival Fantasy had died on Friday while the ship was docked in Nassau, Bahamas. The authorities have since released the identity of the victim. 26-year-old Walter Bouknight from South Carolina fell from one of the platforms of the ship's atrium and landed two floors below. Witnesses to the incident told the local media that the young man was unresponsive and had probably been killed on impact.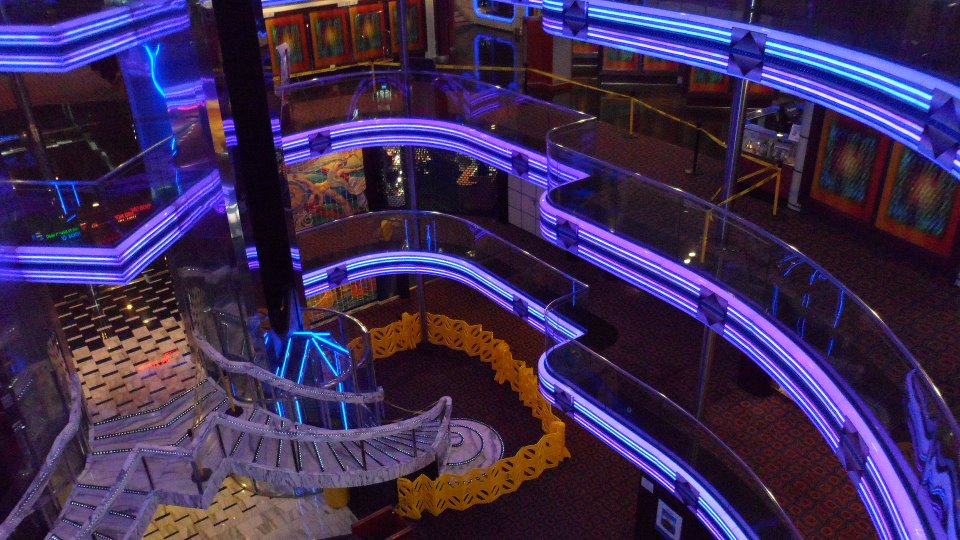 The above photograph was taken a few moments after the incident. Yellow tape is still visible on the platform from which Walter Bouknight fell. Two floors below, near the bottom of the stairs, is where the young man's body rested, an area blocked off by crewmembers while first responders attempted to revive the passenger.
The Carnival Fantasy was on a 5-day cruise in the Bahamas and has since returned to Charleston, South Carolina. Passengers who were on the cruise when this tragedy occurred have been asked to comment on the events. While some have alleged that Walter had lost money gambling in the ship's casino before his fall, others have reported that the young man was suicidal.
Several other passengers however have vehemently disagreed with that theory. One outraged passenger insisted on rebutting the theory as untrue. This passenger who knows the father of the deceased commented that alcohol may have been an issue and that whether it was intoxication or the momentum from running towards the railing that caused the young man to fall over the railing, he certainly was not suicidal.

One of the issues raised by the testimonials above is whether Mr. Bouknight was intoxicated at the time. The Carnival Fantasy's Club 21 Casino is located on Deck 9 of the ship and is the only location aboard the ship where passengers are free to gamble and drink alcohol. Assuming Walter was gambling and drinking at Club 21 Casino before falling to his death in the atrium, next comes into question how many drinks was Walter served by cruise line employees and crewmembers and whether they should have not served him alcoholic beverages had he began to exhibit signs of intoxication.